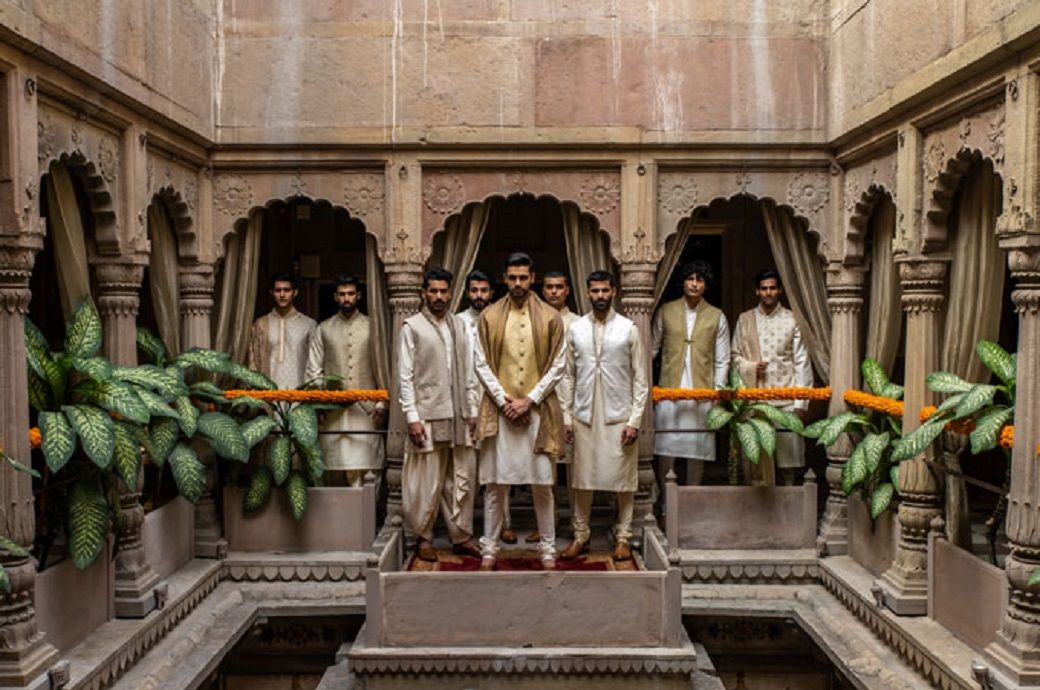 Aditya Birla Fashion and Retail's (ABFRL) ethnic menswear brand Tasva and fashion designer Tarun Tahiliani have opened the first exclusive Tasva store in Dehradun, the capital city of Uttarakhand. Located on Rajpur Road, the sprawling 3,376 square feet Tasva store with a stately facade and elegant interiors, offers high-quality ethnic attire for men for festive occasions and weddings.
The collection showcases a variety of kurtas, bundis, sherwanis, bandhgalas, achkans, churidars, aligarhis, and other garments, all crafted with attention to detail and design. The assortment celebrates traditional crafts using a contemporary approach with fabrics ranging from silks to cotton to brocades, according to a press release by ABFRL. Accessories including safas, sarpeches, brooches, pocket squares, buttons, sehras, stoles, shawls, and footwear are also available.
The collection, which is embellished with Ikat prints, Benarasi motifs, and Chikankari, explores pastel colours like mint green, ivory, and salmon pink, as well as softer tones of yellow to deep blues and tropical hues.
The store's design and decor are in keeping with Tahiliani's 'India Modern' design ethos and reflect the reality that Indian consumers have evolved over the years, and now seek more meaning and expressiveness via their choices. The store combines luxurious materials like wood, brass, and aged Rajasthani architraves as a portal to a new world of Indian apparel. Tasva's flagship Dehradun store has been designed with a modern perspective that is founded on tradition.
"I have fond memories of my time at Doon School Dehradun, and I am excited to bring Tasva to the city. Tasva has been a long-held dream of mine, made possible via ABFRL. The name itself represents the finest version of oneself, which we have worked hard to accomplish through the brand. For the longest time, I've heard that ethnic wear is uncomfortable, and Tasva is an attempt to rectify that. We have designed garments that provide our consumer, the Indian man, with a fabulously made, internationally constructed, comfortable, well-cut Indian brand with Tarun Tahiliani styling but with complete cost accessibility," Tarun Tahiliani, chief design officer, Indivinity Clothing, said in the release.
"We are pleased to open our flagship store in Dehradun. The exclusive brand outlet is strategically located on Rajpur Road, which is easily accessible. With the opening of this store, we are on the verge of increasing our presence in north India. Tasva will transform the experience of wearing traditional and fusion Indian apparel into one of unmatched comfort and style. We intend to expand our retail presence, taking the brand to many other cities, now that we have created a strong customer connect and a proven business model," said Sandeep Pal, CEO, Tasva.
The store was inaugurated by Abhinav Kumar, special principal secretary to the chief minister of Uttarakhand, in the presence of Tarun Tahiliani and Sandeep Pal.
Fibre2Fashion News Desk (NB)